Marcie Soderquist

PAT GUSTKE SUSTAINER OF THE YEAR AWARD WINNER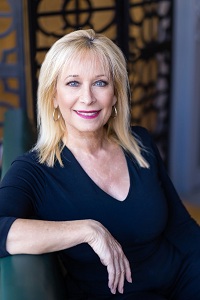 Perusing a list of Marcie's JLSJ placements clearly demonstrates her compassion for serving others. So great is Marcie's belief in developing the potential of women that she gave seven years of her Active League career to building and developing our membership. According to JLSJ member, Jayne Capelin, "Marcie is a natural connector. Her brain is constantly scrolling to find ways to help the people she meets. If you think you're going to a social event to have fun and you meet Marcie, you'll certainly have a great time and in addition come away with additional value in advice or a contact that you've been looking for. Marcie focuses her efforts on making a difference for the long term."
In addition to her service to our membership, Marcie spent countless years in community placements in JLSJ. It was here she learned about Project Cornerstone. Project Cornerstone is a series of programs developed by the YMCA, to "empower young people, parents, and school staff to improve school climate and create vibrant, caring communities of learners." Marcie has led many Project Cornerstone parent classes for the past 7+ years and she has personally impacted over 400 parents. Her outstanding volunteer work was recognized when she was selected as Project Cornerstone's School Partnerships Program Volunteer of the Year in 2017.
Connections through JLSJ continue for Marcie. She has recently begun working with Pivotal after supporting the care package initiative championed by our League. She hit the ground running joining the Pivotal Resource Council, a group made up of Silicon Valley business leaders who are friends of Pivotal and committed to working within their networks to secure internship hosts for Pivotal's students. She also provided informational interviews for college students interested in real estate. Thinking outside the box, with an eye ever toward the success of each individual, Marcie reached out to Pivotal's development team to propose a giving campaign geared towards realtors of Silicon Valley, an untapped market for Pivotal. Planning continues to bring this initiative to life. As with all her work, Marcie is making an impact from the get go, changing lives at every turn.
Marcie's $1,000 stipend is being donated to Pivotal.

Source: https://www.jlsj.org/promoting-voluntarism/sustainers/pat-gustke-sustainer-of-the-year-award/

Current Impact Area
Community Focus: Transitional Age Foster Youth
Community Goals
Make a measurable impact in the lives of transitional age foster youth (TAY), while providing meaningful volunteer opportunities to our members, showcasing our impact to our community and articulating a clear value proposition to our donors.
Junior League of San Jose (JLSJ) utilizes an Issue-Based Community Impact (IBCI) model, which directs all League volunteer efforts towards JLSJ's community focus: transitional age foster youth (TAY). In 2016, JLSJ officially changed our community focus to helping foster youth successfully transition out of foster care. JLSJ is focusing our efforts on foster youth and addressing the complex and intense issues they face by helping to change the statistics. Marcie Soderquist has been a member since 1996.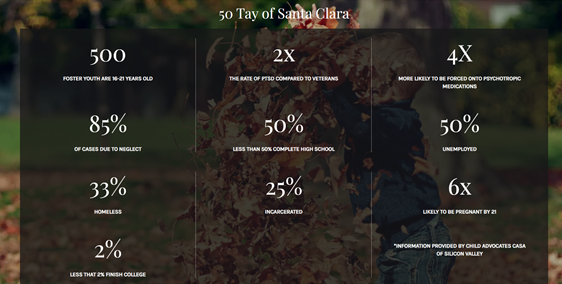 *Information provided by Child Advocates CASA of Silicon Valley

Project Cornerstone is celebrating 20 years of helping youth in Silicon Valley feel valued, respected and known. Our programs and services help individuals and communities build a web of support around young people so that they grow into healthy, caring and responsible adults.
Our programs have made the following impact:
300 school partners building caring and inclusive schools
20,000 educators trained in the developmental assets model
7,400 adults increased their commitment to youth through our six week workshops
6,000 parent volunteers engaged in schools annually
96,000 youth empowered annually
In the past 20 years, the number of thriving youth in Silicon Valley has increased 16% and the number of at risk youth has decreased 10%. Marcie Soderquist has been working with them for 10 years.
Project Cornerstone
Helping families and schools set up for success with distance learning resources and tips. We want every child to feel valued, respected, and known especially during these unprecedented times!
Welcome to Project Cornerstone Trainings.
Here you will find links to view or sign-up for Volunteer Trainings and Parent Workshops.
Volunteer Trainings
This section contains details for:
Assets 101 Training
Monthly Lead Trainings
*Assets 101 Training*
For all ABC, Los Dichos, PK/TK, and Middle School Volunteers
Due to COVID-19, we are unable to offer live trainings (with the exception of an OPTIONAL Los Dichos Zoom training - sign-up below).
Directions:
Volunteers for all programs must watch three (3) training modules.

Modules 1 and 2 are the same for ALL programs.

Module 3 is specific to each program.

The link to sign-up for the OPTIONAL Los Dichos Zoom training is right below the last Module 3 link.
Modules 1 and 2 for All Programs
You will view two videos: one from Module 1 and one from Module 2​​​​​​​​​​​​​​
Module 3 (Select the link below that corresponds to the program in which you are volunteering)
Unless you are volunteering for more than one program, you will only select one video below to view
Los Dichos Only: Assets 101 Live Zoom Trainings
This is an optional live training available for Los Dichos volunteers only
LOS DICHOS: REGISTER HERE
Marcie Soderquist
Compass
DRE#
:
01193911
Address
167 S San Antonio Rd #1
Los Altos, CA 94022